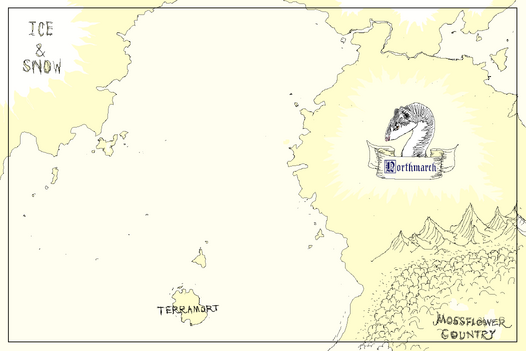 Northmarch was an unstable oligarchy to the far north of Mossflower Country. Its boundary was marked on the west by the Great Western Sea, on the east by the Eastern Ocean, on the north by tundras, and on the south by the Highnorth Mountains above Northern Mossflower. It was ruled by a High Council consisting of the heads of each of the most influential and powerful clans, called Lairds.
The clans often disagreed amongst themselves, and naturally settled those disagreements with long clan wars. It was for that reason that Rakkety Tam MacBurl and his partner, Wild Doogy, left Northmarch on the first of their many wanderings.
Three hundred seasons after the death of Salamandastron leader Violet Widestripe, nine thousand Silvirian troops landed at Ghuiln, near the southernmost coastal border, and fought their way to Highnorth Castle and besieged it. Two months later, Highnorth fell, leaving the rest of Northmarch open for conquest. The fact that the clans were in the middle of a feudal war at the time only contributed to the complete subjugation that followed. Soon the heretical Highlanders were paying their tithes and attending the many Silvirian churches and monasteries that were set up in the following seasons after the war.
More information on Northmarch will be submitted following an upcoming Rpg on Redwall Wars Wiki.
Ad blocker interference detected!
Wikia is a free-to-use site that makes money from advertising. We have a modified experience for viewers using ad blockers

Wikia is not accessible if you've made further modifications. Remove the custom ad blocker rule(s) and the page will load as expected.